I mentioned a little while back that my husband and I would be swapping rooms with our boys so they could have the master bedroom and a bigger place to play.
Last weekend we finally did it! It was a really big feat because our house is tiny and moving a bunch of furniture around into different rooms caused a huge traffic jam! For once I was grateful for the door that adjoins our bedroom and the boys bedroom. We had to bring some of the furniture through there while OUR furniture sat in the front room :)
So while I am working on the kitchen and the work room OF COURSE I am thinking of something else completely :) Our room is super small with our queen sized bed and tall dresser. That is about all that fits.
In fact our bed is too big so we had to leave the footboard off of it so it would fit :) So I am thinking of other alternatives with the bed and the walls. I am probably going to boot the sleigh bed and make a BEAUTIFUL TUFTED headboard because now I have an excuse....
Don't worry!.....This is only in the planning stages because I have to finish my TWO house projects first :)
Since that was one of my goals for this year!
I love the shape of this headboard but probably wouldn't do it in white because it can't just be thrown in the wash when my kids fingerprints end up on it :)
Since our room is small but the walls are tall I thought some horizontal stripes would be amazing!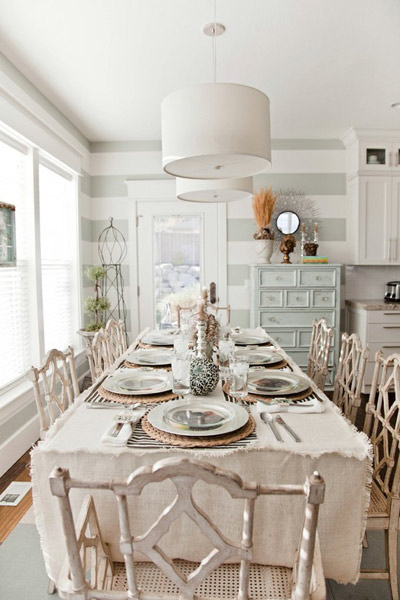 Creamylife.com












Maybe even some thicker stripes. I love how it makes a long, narrow room look wider!
I am thinking in our bedroom I will do less browns and keep the blues and add more white and grays.
Maybe even a chandelier with a few crystals....hmmmm the wheels in my head are turning!
What would be your perfect bedroom?
I have given myself a time line on the kitchen....a week. So next Thursday I should be done :)